A brief look at New Richland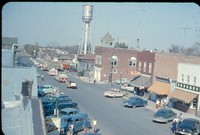 Downtown New Richland - 1950's
New Richland owes it origins to the Minneapolis & St. Louis Railroad which reached the area in 1877 and the Norwegian settlers who were attracted to the rich farmland of Waseca County. From its very beginnings, the founding fathers of New Richland worked toward the betterment of the community with an eye on progress and the promise of a bright future for all citizens. Merchants opened their doors and sold dry goods, medicine and drugs, furniture, coal, hardware, lumber, harness and leather goods, and more. The village supported a depot, two banks, two blacksmiths, three hotels, a school, a jeweler, a flour mill, a newspaper, several meat markets and grocery stores, a creamery, cheese factory, farm implements, Ford automobile dealership, cafes, poultry and egg factory, a movie theater and many other businesses.
Faith has always played an important role in the lives of the people of New Richland. In 1882, members of the Congregational church erected the first house of worship in the village. Other well established churches in the city limits include All Saints Catholic, Trinity Lutheran and St. Peter's Lutheran.
Preserving the history of New Richland is an important and fascinating duty undertaken by the New Richland Area Historical Society. Along with several other businessmen and private citizens, the society has made it their mission to completely restore the Independent Order of Oddfellows hall, named "Stranger's Refuge." which was added to the National Register of Historical Buildings several years ago. The New Richland chapter of the IOOF was established in 1880, the present building was erected in 1902.
Historical information obtained from "History of New Richland and Wilton Villages" published by the Waseca County Historical Society, March 1962, and compiled by Herman Peterson, (a copy of this publication is on file at the New Richland Public Library) and the New Richland Star Newspaper.