Free Land in our Homestake Subdivision
Free Land!!
That's right! An 86' x 133' lot in a new addition on the NW side of New Richland.
Lots built on so far are Block 1 - Lots 2 and 8, Block 2 - Lots 2, 4, 6, 7 & 8, Block 3 - Lots 7 & 8 and Block 4 - Lots 1,2 & 3
Requirements
You must build a new home within 1 year after the property is deeded to you. There are additional building covenants specific to this subdivision. Please see the Document link below for the Subdivision Restrictive Covenants.
Assessments
You will get the land for FREE!
However, you will be assessed for part of the cost to develop your property with streets, curb & gutter and water & sewer.
Total estimated cost per lot for development is approximately $25,000.
Through the use of Tax Increment Financing (TIF) we will be able to reduce this cost to about $14,000*. This will be payable, by you over a 15 year period. It is simply collected semi-annually with your Real Estate Taxes.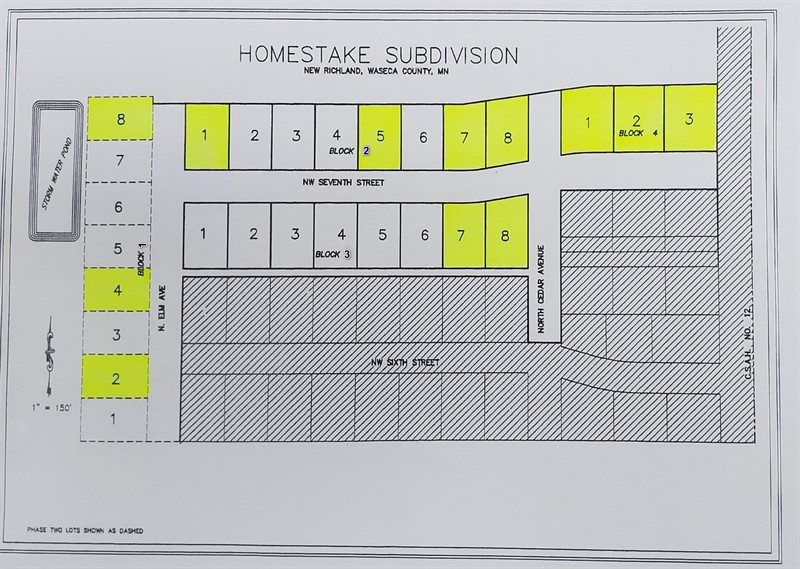 Instant Equity
Some lenders will allow the FREE land to be used as equity (down payment) for a home construction loan, allowing the Assessments to continue to amortize to the City.
The First Step
To begin the approval process, the City of New Richland requires a pre-approval letter from your lender to show you will have the funds to build a home, then you are able to select a lot within the subdivision and fill out the application. **Please note that this process could take up to 4 weeks for approval.
About New Richland
With a population of about 1200, New Richland is located just minutes west of Interstate 35 in Southern Minnesota. New Richland is about 13 miles south of Waseca, 20 miles north of Albert Lea, 26 miles southwest of Owatonna, 40 miles southeast of Mankato, 60 miles west of Rochester and 75 miles to the southern edge of the Twin Cities.
The Riverview Golf Course, St. Olaf Lake Beach and Parks and Bike Trail are just a few of the amenities offered. The NRHEG School provides many academic, fine arts and extra curricular opportunities. The K-12 curriculum offered is outstanding, as verified by the exceptional test scores of the students. Many churches and services are offered in New Richland.
Please send us an email to request more information.
* You will qualify for these reduced Assessments if you make less than the income guidelines below. If you make more than the income guidelines you can still qualify for a lot, but will not qualify for the reduced assessment amount listed above.
Family of: Income (Line 34 of 1040 Tax Return)
2 or fewer $66,950
3 or more $76,993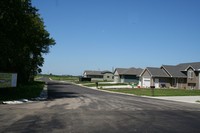 Homes built in Homestake Subdivision
Lots available in Homestake Subdivision